The 2019 Alex Warnke DOT Memorial 5K Run/Walk will be held June 22nd 8am. The race will start at West Central School in Maynard, Iowa. Registration and packet pick-up the day of the race 7-7:45am at the school. There will also be a packet pick-up June 21st 5-7pm at Maynard City Park.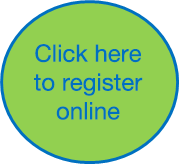 Entry Fee is $15 until June 8th, $20 thereafter. Everyone who signs up by June 8th will receive a free shirt.
All proceeds will benefit the Iowa Donor Network.
Beverages and snacks will be provided after the run. Maynard Days festivities are happening all weekend.
Click here to download a registration form or register online.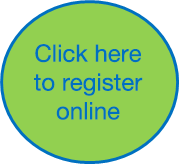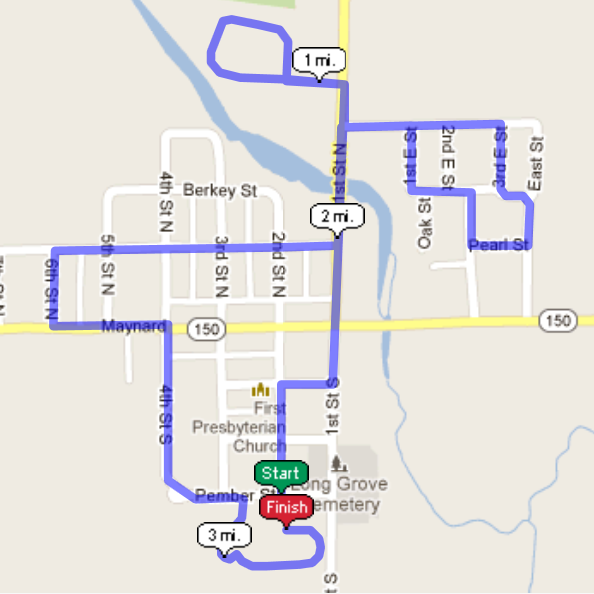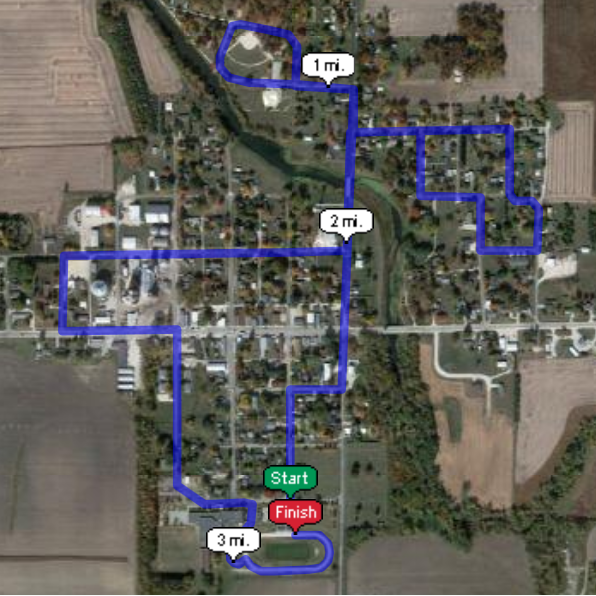 Mens First Overall
| | | |
| --- | --- | --- |
| Aaron Reinhart | 24 | 19:34.7 |
Womens First Overall
Mens 19 and Under
| | | |
| --- | --- | --- |
| James Niemann | 16 | 20:43.6 |
| Tyson Decker | 14 | 21:17.0 |
| Bowen Munger | 9 | 23:12.2 |
| Jake Demuth | 14 | 23:23.3 |
| Charlie Sieck | 8 | 24:00.0 |
| Derek Pape | 14 | 25:52.4 |
| Kyler Hulke | 13 | 29:19.6 |
| Spencer Grimm | 18 | 29:42.5 |
| Ryan Demuth | 13 | 31:12.6 |
| Miles Walenceus | 17 | 43:57.3 |
Mens 20-29
| | | |
| --- | --- | --- |
| Aaron Reinhart | 24 | 19:34.7 |
| Dale Linderwell | 27 | 21:05.1 |
| Jeff Clayton | 26 | 21:27.0 |
| Eric Kerns | 22 | 23:28.3 |
| Tony Warnke | 29 | 23:44.7 |
| Ben Miller | 24 | 24:14.6 |
| Josh Loban | 24 | 28:36.5 |
| Kevin Callanan | 22 | 28:51.1 |
| John Welsh | 22 | 30:05.0 |
| Matthew Hageman | 20 | 31:09.0 |
| Wes Kolpek | 23 | 38:14.3 |
| Scott Griffin | 24 | 45:31.9 |
| Tommy Bearhower | 24 | 45:53.4 |
| Shane Pape | 25 | 51:09.3 |
Mens 30-39
Mens 40-49
| | | |
| --- | --- | --- |
| Trent Gefaller | 44 | 30:22.2 |
| Ben Demuth | 44 | 31:02.6 |
| Bob Howard | 46 | 40:39.5 |
Mens 50 and Over
| | | |
| --- | --- | --- |
| James Paul | 59 | 22:24.3 |
| Kim Wander | 52 | 22:39.1 |
| Mark Creery | 52 | 27:44.6 |
| Dick Graham | 67 | 28:43.7 |
| Dave Hanson | 51 | 30:26.2 |
| Bruce Pape | 58 | 43:11.9 |
| Brice Pape | 58 | 43:15.5 |
| Dan Pape | 52 | 43:16.4 |
| Jim Byerly | 58 | 50:39.1 |
| Gregg Ford | 55 | 51:10.2 |
| Jere Kerns | 51 | 51:27.7 |
| Pat Grennan | 63 | 54:32.9 |
Womens 19 and Under
| | | |
| --- | --- | --- |
| Meg DeHaven | 17 | 32:41.4 |
| Mackenzie Pape | 19 | 39:27.6 |
| Kim Bantz | 17 | 43:21.3 |
| Kristen Bunn | 19 | 43:22.1 |
| Tess Kuennen | 17 | 43:22.5 |
| Tara Pape | 19 | 43:57.7 |
| Ayrrian Harson | 12 | 49:45.6 |
| Sydney Gefaller | 11 | 54:32.7 |
| Savannah Gefaller | 17 | 54:33.5 |
Womens 20-29
| | | |
| --- | --- | --- |
| Tyna Bentley | 25 | 22:49.8 |
| Lindy Tommasin | 29 | 24:19.9 |
| Crystal Cole | 28 | 28:32.5 |
| Stacy Fink | 26 | 29:21.4 |
| Melissa Hageman | 27 | 30:22.8 |
| Melanie Smith | 29 | 31:17.6 |
| Brittney Warnke | 24 | 31:25.0 |
| Allisyn Kirby | 23 | 31:29.8 |
| Kelsey Ford | 23 | 33:32.7 |
| Jessica Sherman | 23 | 33:33.1 |
| Michaela Pape | 23 | 35:43.1 |
| Stephanie Kennon | 23 | 37:00.7 |
| Amanda Freeland | 24 | 38:16.8 |
| Rachel Suckow | 22 | 40:49.6 |
| Taylor Bunn | 22 | 45:33.0 |
| Kati Kolpek | 25 | 45:53.5 |
| Kim Novak | 29 | 50:05.2 |
| Danielle Kraemer | 27 | 52:30.1 |
Womens 30-39
| | | |
| --- | --- | --- |
| Casey Graham | 31 | 20:12.1 |
| Michelle Gearhart | 36 | 23:23.4 |
| Heidi DuCharme | 30 | 24:39.7 |
| Billie Jo Olsen | 30 | 27:07.8 |
| Brenda Helmuth | 30 | 29:17.7 |
| Jess Paige | 35 | 29:24.3 |
| Valerie Warnke | 32 | 34:00.3 |
| Stephanie Beckley | 30 | 34:15.4 |
| Melissa Fagle | 35 | 35:44.8 |
| Mariah Cushion | 36 | 37:57.2 |
| Karolyn Rodas | 31 | 38:32.6 |
| Lindy Bantz | 34 | 47:49.6 |
| Missy Byerly | 35 | 50:36.6 |
Womens 40-49
| | | |
| --- | --- | --- |
| Jill Waterman | 42 | 27:12.8 |
| Lisa Hulke | 44 | 28:10.5 |
| Sue Cushion | 45 | 29:42.0 |
| Sue Jurgensen | 43 | 32:01.8 |
| Connie Demuth | 45 | 34:13.5 |
| Traci Hampton | 41 | 34:15.0 |
| Roxanne Fink | 48 | 35:56.0 |
| Kelly Beacom | 45 | 49:47.7 |
| Kristi Wolfe | 45 | 49:59.4 |
| Jackie Ruff | 42 | 49:59.9 |
| Kim Squires | 42 | 54:31.9 |
Womens 50 and Over
| | | |
| --- | --- | --- |
| Rose Wander | 51 | 27:27.6 |
| Renada Schoon | 51 | 31:55.9 |
| Barbara Kerns | 50 | 34:27.4 |
| Glenda Suckow | 55 | 40:50.1 |
| Kathy Loban | 58 | 43:37.7 |
| Claire Shannon | 50 | 44:17.1 |
| Linda Knoploh | 50 | 44:17.5 |
| Elaine Grimm | 55 | 46:16.1 |
| Dayna Baker | 55 | 46:16.4 |
| Jean Pape | 52 | 48:19.0 |
| Peggy Schrader | 60 | 48:22.5 |
| Kerri Linderwell | 55 | 48:56.8 |
| Cheryl Melchert | 56 | 49:18.8 |
| Janna Kane | 55 | 49:19.1 |
| Kay Bunn | 50 | 49:48.0 |
| Shae Kerns | 51 | 49:55.3 |
| Karen Ford | 54 | 49:55.7 |
| Judy Hanson | 60 | 50:05.7 |
| Linda Kraemer | 59 | 52:22.6 |
| Janet Dugan | 51 | 53:47.6 |
| Judy Albrecht | 54 | 54:32.0 |
| Karla Grennan | 60 | 54:33.1 |
Last Overall
| | | |
| --- | --- | --- |
| Savannah Gefaller | 17 | 54:33.5 |
Mens First Overall
Womens First Overall
| | | |
| --- | --- | --- |
| Lindy Tommasin | 30 | 22:21.4 |
Mens 19 and Under
| | | |
| --- | --- | --- |
| James Niemann | 17 | 18:48.8 |
| Charlie Sieck | 9 | 23:29.8 |
| Sam Annis | 17 | 24:33.7 |
| Derek Pape | 15 | 27:34.5 |
| Nolan Cushion | 8 | 36:28.3 |
Mens 20-29
| | | |
| --- | --- | --- |
| Dale Linderwall | 28 | 20:24.8 |
| Aaron Reinhart | 25 | 22:32.5 |
| Jeff Clayton | 26 | 21:27.0 |
| Eric Kerns | 22 | 23:28.3 |
| Tony Warnke | 29 | 23:44.7 |
| Ben Miller | 24 | 24:14.6 |
| Josh Loban | 24 | 28:36.5 |
| Kevin Callanan | 22 | 28:51.1 |
| John Welsh | 22 | 30:05.0 |
| Matthew Hageman | 20 | 31:09.0 |
| Wes Kolpek | 23 | 38:14.3 |
| Scott Griffin | 24 | 45:31.9 |
| Tommy Bearhower | 24 | 45:53.4 |
| Shane Pape | 25 | 51:09.3 |
Mens 30-39
Mens 40-49
| | | |
| --- | --- | --- |
| Trent Gefaller | 44 | 30:22.2 |
| Ben Demuth | 44 | 31:02.6 |
| Bob Howard | 46 | 40:39.5 |
Mens 50 and Over
| | | |
| --- | --- | --- |
| James Paul | 59 | 22:24.3 |
| Kim Wander | 52 | 22:39.1 |
| Mark Creery | 52 | 27:44.6 |
| Dick Graham | 67 | 28:43.7 |
| Dave Hanson | 51 | 30:26.2 |
| Bruce Pape | 58 | 43:11.9 |
| Brice Pape | 58 | 43:15.5 |
| Dan Pape | 52 | 43:16.4 |
| Jim Byerly | 58 | 50:39.1 |
| Gregg Ford | 55 | 51:10.2 |
| Jere Kerns | 51 | 51:27.7 |
| Pat Grennan | 63 | 54:32.9 |
Womens 19 and Under
| | | |
| --- | --- | --- |
| Meg DeHaven | 17 | 32:41.4 |
| Mackenzie Pape | 19 | 39:27.6 |
| Kim Bantz | 17 | 43:21.3 |
| Kristen Bunn | 19 | 43:22.1 |
| Tess Kuennen | 17 | 43:22.5 |
| Tara Pape | 19 | 43:57.7 |
| Ayrrian Harson | 12 | 49:45.6 |
| Sydney Gefaller | 11 | 54:32.7 |
| Savannah Gefaller | 17 | 54:33.5 |
Womens 20-29
| | | |
| --- | --- | --- |
| Tyna Bentley | 25 | 22:49.8 |
| Lindy Tommasin | 29 | 24:19.9 |
| Crystal Cole | 28 | 28:32.5 |
| Stacy Fink | 26 | 29:21.4 |
| Melissa Hageman | 27 | 30:22.8 |
| Melanie Smith | 29 | 31:17.6 |
| Brittney Warnke | 24 | 31:25.0 |
| Allisyn Kirby | 23 | 31:29.8 |
| Kelsey Ford | 23 | 33:32.7 |
| Jessica Sherman | 23 | 33:33.1 |
| Michaela Pape | 23 | 35:43.1 |
| Stephanie Kennon | 23 | 37:00.7 |
| Amanda Freeland | 24 | 38:16.8 |
| Rachel Suckow | 22 | 40:49.6 |
| Taylor Bunn | 22 | 45:33.0 |
| Kati Kolpek | 25 | 45:53.5 |
| Kim Novak | 29 | 50:05.2 |
| Danielle Kraemer | 27 | 52:30.1 |
Womens 30-39
| | | |
| --- | --- | --- |
| Casey Graham | 31 | 20:12.1 |
| Michelle Gearhart | 36 | 23:23.4 |
| Heidi DuCharme | 30 | 24:39.7 |
| Billie Jo Olsen | 30 | 27:07.8 |
| Brenda Helmuth | 30 | 29:17.7 |
| Jess Paige | 35 | 29:24.3 |
| Valerie Warnke | 32 | 34:00.3 |
| Stephanie Beckley | 30 | 34:15.4 |
| Melissa Fagle | 35 | 35:44.8 |
| Mariah Cushion | 36 | 37:57.2 |
| Karolyn Rodas | 31 | 38:32.6 |
| Lindy Bantz | 34 | 47:49.6 |
| Missy Byerly | 35 | 50:36.6 |
Womens 40-49
| | | |
| --- | --- | --- |
| Jill Waterman | 42 | 27:12.8 |
| Lisa Hulke | 44 | 28:10.5 |
| Sue Cushion | 45 | 29:42.0 |
| Sue Jurgensen | 43 | 32:01.8 |
| Connie Demuth | 45 | 34:13.5 |
| Traci Hampton | 41 | 34:15.0 |
| Roxanne Fink | 48 | 35:56.0 |
| Kelly Beacom | 45 | 49:47.7 |
| Kristi Wolfe | 45 | 49:59.4 |
| Jackie Ruff | 42 | 49:59.9 |
| Kim Squires | 42 | 54:31.9 |
Womens 50 and Over
| | | |
| --- | --- | --- |
| Rose Wander | 51 | 27:27.6 |
| Renada Schoon | 51 | 31:55.9 |
| Barbara Kerns | 50 | 34:27.4 |
| Glenda Suckow | 55 | 40:50.1 |
| Kathy Loban | 58 | 43:37.7 |
| Claire Shannon | 50 | 44:17.1 |
| Linda Knoploh | 50 | 44:17.5 |
| Elaine Grimm | 55 | 46:16.1 |
| Dayna Baker | 55 | 46:16.4 |
| Jean Pape | 52 | 48:19.0 |
| Peggy Schrader | 60 | 48:22.5 |
| Kerri Linderwell | 55 | 48:56.8 |
| Cheryl Melchert | 56 | 49:18.8 |
| Janna Kane | 55 | 49:19.1 |
| Kay Bunn | 50 | 49:48.0 |
| Shae Kerns | 51 | 49:55.3 |
| Karen Ford | 54 | 49:55.7 |
| Judy Hanson | 60 | 50:05.7 |
| Linda Kraemer | 59 | 52:22.6 |
| Janet Dugan | 51 | 53:47.6 |
| Judy Albrecht | 54 | 54:32.0 |
| Karla Grennan | 60 | 54:33.1 |
Last Overall
| | | |
| --- | --- | --- |
| Savannah Gefaller | 17 | 54:33.5 |